Accordia™ Shades Guide

A Shade More Ingenious
Smart Shades
Levolor understands that how the shade operates is as important as how beautiful it looks. Accordia™ offers several smart solutions from an easy-to-use cordless shade to a shade that provides complete light and privacy control with our Top Down/Bottom Up option. You can achieve any desired level of control and privacy with the vast assortment of features and options Levolor has to offer.
Light Filtering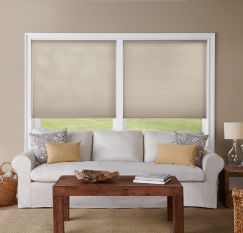 Enjoy the cozy feeling of soft, natural light. The inviting warmth and visual presence of natural sunlight illuminating your home is undeniably appealing. Levolor Light Filtering fabrics help soften incoming light to create a perfect ambiance for both formal and casual rooms during the day.
Room Darkening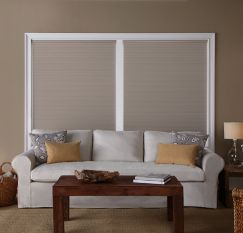 When you want maximum privacy or total darkness, Levolor Room Darkening shades are the ultimate choice. From the bedroom to the bathroom, Room Darkening fabrics offer maximum privacy, keeping rooms dark even in the middle of a bright, sunny day.
Light Control & Privacy Options
Standard Bottom Up
The Standard
Standard Bottom Up easily raises from the bottom of the shade. Add the award-winning cordless feature to your shade for a clean appearance free of dangling cords.
Shown in cordless
Top Down/Bottom Up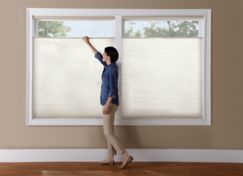 Improved Light Control and Privacy
Now you can enjoy the beauty and warmth of incoming light and your privacy at the same time. Top Down/Bottom Up allows you to adjust the top independently from the bottom letting sunlight in while maintaining your privacy.
Shown in cordless
Transformations™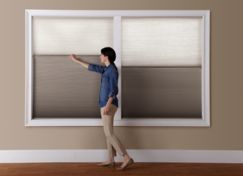 The Ultimate Shade
Transformations™ combines a Light Filtering fabric with a Room Darkening fabric to give you optimal thermal insulation. The two fabrics on one shade provide versatile light control to create the perfect ambiance or enable maximum privacy so you can relax in your private retreat.
Note: Light Filtering fabric can only be produced as the top (upper) portion of the shade.
Shown in cordless
Larger Window Options
Continuous Cordloop
Perfect for Larger Shades
The Continuous Cordloop option helps easily raise larger shades evenly while keeping them at exactly the height you want without having to lock or unlock the cord. Simply pull the cord until the shade is at the desired height and the shade stays in place while maintaining the same cord length.
Multiple Shades on One Rail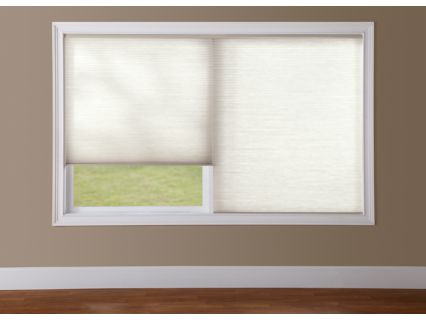 Ideal for Large Frame Windows
This unique option is suited for multiple windows in one frame allowing multiple shades to operate independently on one headrail. The result provides a clean appearance and the impression of a single shade operation. Flexibility and convenience made simple.
Headrail
Colour Coordinated Headrail
Levolor is unsurpassed in precision colour coordination. Standard on your Accordia™ Shades, colour coordinated components conveniently match with the fabric colour to simplify decorating your home. The headrail colour can be found just above the fabric colour for each collection.
Specialty Shapes
Today's homes feature many unique window shapes and designs. Levolor leads the way in dressing them beautifully.
Standard Arches
Select this stationary operating shade for windows set in an arch design and where operation of the shade isn't required.
Additional Specialty Shapes
| | | | |
| --- | --- | --- | --- |
| Half Arch | Circle | Octagon | Hexagon |
| Standard Skylight | Fanned Angle Bottom | Fanned Angle Top | Cutouts |