PanelTrac® Guide
Critical Dimensions | Cleaning and Care

Wand Lengths
| Shade Height | Cordless Wand Length |
| --- | --- |
| 12" - 24" | 12" |
| 24-1/8" - 36" | 20" |
| 36-1/8" - 96" | 33" |
| 96-1/8" - 108" | 47" |
| 108-1/8" - 120" | 59" |
| 120-1/8" - 132" | 69" |
| 132-1/8" - 144" | 80" |
Cord Length
Cord Length is assigned as 3/4 the length of the shade but CAN be changed (12" - 144").
Headrail Dimensions
Reference the Configuration Chart below to determine the number of channels on your shade.
| | 2 Channel | 3 Channel | 4 Channel | 5 Channel |
| --- | --- | --- | --- | --- |
| Height" | 1/2" | 1/2" | 1/2" | 1/2" |
| Depth | 1-1/2" | 2-1/4" | 3" | 3-3/4" |
Panel Quantity and Configuration Chart
Based on the width of your shade and the type of draw you choose for your Panel Track Shade (One-Way or Split-Draw), use the corresponding chart to determine the number of panels in your shade, the width of each panel and the number of channels in the headrail. Overlap between panels will vary from 2-1/2" to 6-1/2" depending on the width of your shade. There will be equal panel overlap throughout each shade.
ONE-WAY DRAW (48" - 150-1/2")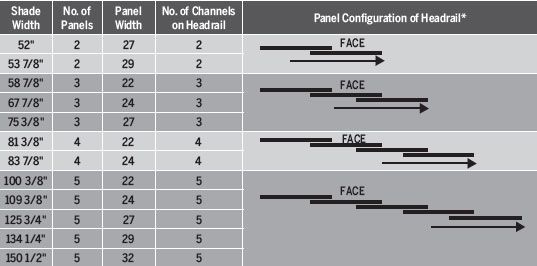 *One-Way Shades may be ordered to draw left or right. The diagrams above depict a left-draw shade. The configuration is the reverse for a right-draw shade.
SPLIT DRAW (69-1/2" - 192")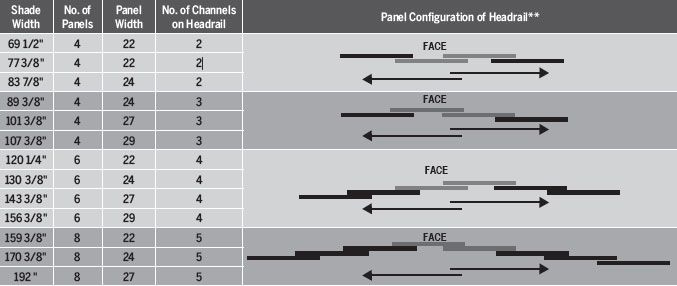 **The gray panels indicate where the split will occur.
Specifications and Deductions
Width
Height
Tolerances
Specifications
Minimum
Maximum
Minimum
Maximum
Width
Length
Cord Length*
One-Way Draw
48"
150-1/2"
12"
144"
1/16"
1/8"
1/4"
Split Draw
69-1/2"
192"
12"
144"
1/16"
1/8"
1/4"
*Cordloop is 3/4 the length of the shade unless otherwise specified.
| Deductions | Width | Panel Length |
| --- | --- | --- |
| Inside Mount | 1/4" | 1-1/2" |
| Outside Mount | 0" | 1" |
Panels sit under a 1" rail so they will measure 1" less than the overall shade.
Top
Care Instructions
A brush-type vacuum attachment or feather duster should be used for cleaning. If your shade should become stained, you may clean it by dabbing the spot with a sponge dampened with lukewarm water. Avoid contact with window cleaning products as these may discolor your shade. Ultrasonic cleaning is not recommended or covered by our warranty.
Color Variation and Fabric Repeat Information
Color lot variations may occur due to the process of color application. For the best color match, order all shades for a room at the same time. Pattern availability and color lot match between orders cannot be assured. Any variation in color is in accordance with industry standards.
Natural fabrics are manufactured of fine yarns and woods. Natural and man-made fibers are spun and twisted into a variety of yarn styles, then pressure-dyed to color. Fine woods are milled into a variety of sizes and shapes and finished with stains and paints. Reeds and slats retain the unique natural grain and color variations inherent in all wood products. Certain species of bamboo can vary from deep yellow to pale green.
Top