What's the difference between LEVOLOR® Real Wood and Faux Wood blinds? Both are available in a wide range of beautiful colours and finishes, but look closer and you'll find that they're made from different materials - giving you the flexibility to choose what's right for your decorating style, room usage, and budget.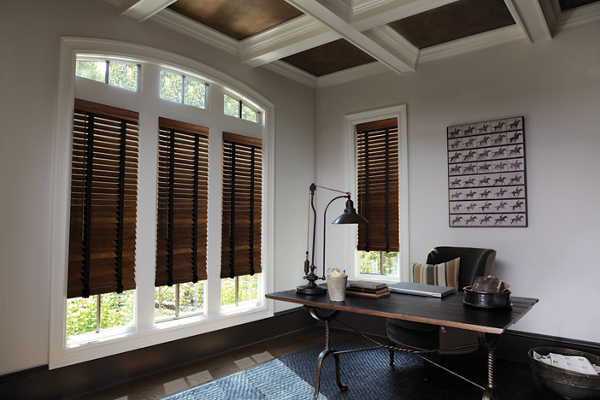 LEVOLOR Real Wood Blinds
Feature slats made from genuine wood that effortlessly bring unparalleled natural warmth and beauty to your home. Available in a wide range of rich finishes or painted options, Real Wood Blinds show subtle variation as nature intended yet are matched for a seamless and uniform look. Depending on your chosen finish, Real Wood Blinds may have organic characteristics such as subtle grain patterns, fine lines, knots or burls. These blinds are a beautiful choice for living rooms, dining rooms, family rooms or bedrooms, but are not recommended for high-humidity rooms such as bathrooms, kitchens, garages or basements.
LEVOLOR NuWood™ Faux Wood Blinds
Resemble real wood, but are made from a high-quality, resilient, wood-like material that is moisture-, scratch- and sun-resistant. It's a smart choice for rooms that can get humid, such a bathrooms and kitchens, and brings extra durability to high-activity environments. It's also a great choice for sunrooms or other areas with direct sun exposure. NuWood Faux Wood Blinds share some of the same finish options as Real Wood Blinds to give you a coordinated look across your home.
LEVOLOR Visions™ Faux Wood Blinds
Are made from a wood-like material to give the appearance of wood with added resilience and value. These blinds are best suited for bathrooms, kitchens, garages, utility rooms and daylight basements. Visions Faux Wood Blinds are available in finishes that coordinate with LEVOLOR Visions Vertical Blinds as well. This can give you a coordinated look throughout your home - indoors, and from the street - while helping you manage your budget.