Real Wood vs. Faux Wood
Wood blinds are a classic window covering that complement a wide variety of interior decor styles, whether you're going for a coastal vibe or a cozy cabin look. Real wood blinds provide a truly refined appearance with the knowledge that quality hardwood will provide optimal light control and aesthetic value. Faux wood blinds combine beauty with durability, performing well in rooms where the blinds could get wet - think flying droplets after bathing the dog.
With superior construction that provides long-lasting durability, LEVOLOR Real Wood and Faux Wood blinds share many features and upgrade options, including:
Three style packages — Curated style packages simplify choosing the look you want.
Wide variety of finishes — From darker shades of brown, grey and black to lighter neutrals in white, beige and off-white, you have plenty of design options.
Privacy Slat design — Cords used to tilt the slats run along the edges of the slats instead of through holes in the middle. Select this upgrade for greater privacy and light control.
Motorized cordless lift system — Upgrade to motorized to conveniently adjust the blinds with a remote control or the LEVOLOR app with peace of mind there aren't any hazards for kids and pets.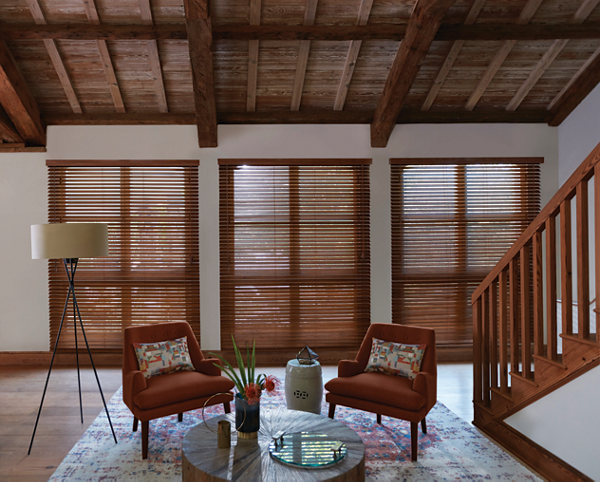 Wooden Blinds
LEVOLOR Real Wood Blinds are made with genuine hardwood in a wide variety of finishes that bring classic warmth or contemporary style to your home, plus superior light control and privacy. Using premium real wood adds an organic element to complement a wide variety of design styles.
Our real wood blinds are available in three slat sizes: 1 inch, 2 inches and 2 ½ inches, allowing you to achieve the view you want. Larger slats provide a more open, spacious view, while smaller slats provide more privacy when open. Slat sizes can also be proportioned to the window size by using larger slats on bigger windows and smaller slats on narrow windows or french doors with less depth.
With 31 finish options, real wood blinds offer more brown tone choices to bring out natural elements like the wood's grain, whorls and knots. Real wood blinds are also lighter, making it an easier lift for homeowners choosing corded or cordless blinds.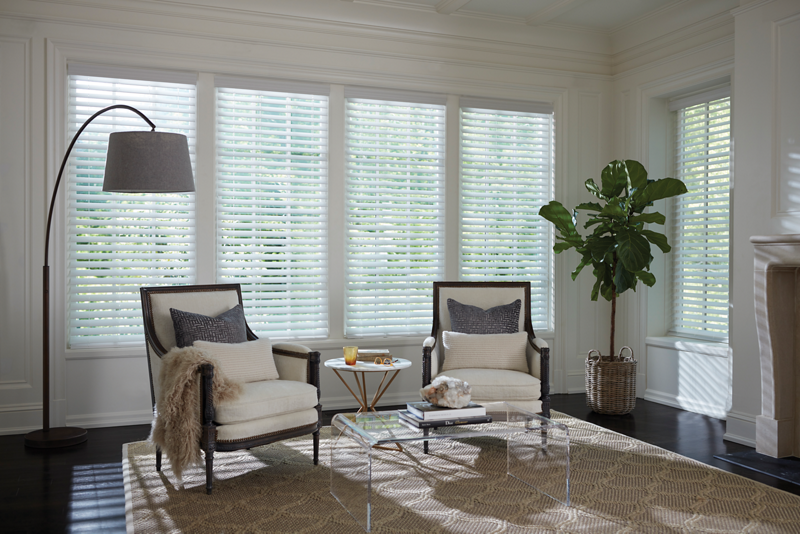 Faux Wood Blinds
LEVOLOR Faux Wood Blinds combine beauty and durability at an incredible value. Made from NuWood™, which won't warp, crack or fade like other faux wood blinds made of PVC, LEVOLOR Faux Wood Blinds resist heat and humidity, scratches and dents.
With two slat sizes — 2 inches and 2 ½ inches — faux wood blinds provide plenty of options to achieve the view and privacy you need. Larger slats provide a more open, grander view, than smaller slats, and with 21 finishes, the sky's the limit for creating your desired look. The faux wood blinds collection has twice as many white and off-white finish options than real wood blinds for lighter, brighter decor.
Additionally, faux wood blinds are the best choice in bathrooms and other rooms where direct contact with water from a shower, bathtub or sink is a possibility, since NuWood resists warping caused by contact with water.
Whether they're for the kid's bathroom or a beach house living room, with LEVOLOR you have the highest quality, most durable blinds in your home.