How to Install - Roller - Stock
How to Install Stock Roller Shades
Instructions
Before installing shade, please read all instructions thoroughly.
---
Tools You May Need (not included):
Tape Measure
Level
Pencil
Flat-blade or Philips Head Screwdriver
Nutdriver
Drill with Bits
Drywall Anchors
Safety glasses
Ladder
---
Step 1
Mount Brackets
Brackets can be used for either an inside or outside mount application (Fig. 1).
When mounting make sure to mount the bracket with the square hole on the side that you want the clutch control.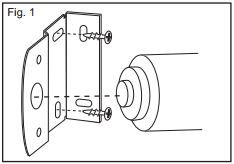 ---
Step 2
Attach Clutch
Clutch can be attached at either end of the shade to ensure maximum operation range, but must correspond with bracket. Before inserting clutch mechanism into roller tube:
Choose what side you want the clutch control on (Remove endcap if needed and replace on other side)
Push smaller side of clutch into desired side of shade.
Note: Clutch operates smoothly when covered part of clutch mechanism faces upward. To allow for maximum drop length, ensure that the beaded chain connector (on the clutch) is raised to the highest point at the rear of the clutch prior to inserting into roller tube (Fig. 2).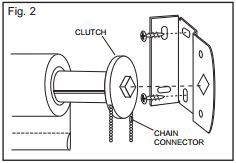 ---
Step 3
Mount Shade
Insert clutch side of shade into square bracket hole and opposite side of shade into round bracket hole.